Advertising Blimps Raise Awareness
Helium advertising blimps, usually 11 feet to 30 feet in length, increase the visibility of your business or event.
Call 1-800-791-1445 for more information and how a balloon or blimp can help your business or event.
Email: Sales@AdvertisingBlimps.us for prices, quotes and information.
Our advertising blimps are made of the finest made in the USA polyurethane. Our blimps are lighter, stronger and retain helium much better than blimps made on PVC. PVC is a known carcinogen. PVC blimps under 15 feet in length will not stay aloft with any wind. Our 11 foot long blimp easily takes 20mph wind and costs 1/4 the amount that filling a 15 foot long blimp made of PVC would cost.Don't buy a blimp made of PVC!We manufacture our promotional blimps in the USA. Try sending a blimp back to China or India for repairs.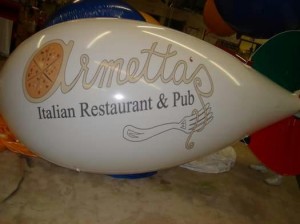 Email us at Sales@AdvertisingBlimps.us for your advertising blimp.Get more information on advertising balloons here.Hundreds of advertising balloons, promotional blimps and advertising inflatables in stock. We custom make hundreds of new helium blimps each year. Let us make your blimp, your way!
Ma
ny clients use blimps, balloons and inflatables for special promotions but many also use them everyday! If your business has a physical location balloons and blimps are like giant signs in the sky. Get your message to people most likely to stop in to your business.
Call 1-800-791-1445 for more information on blimp balloons.